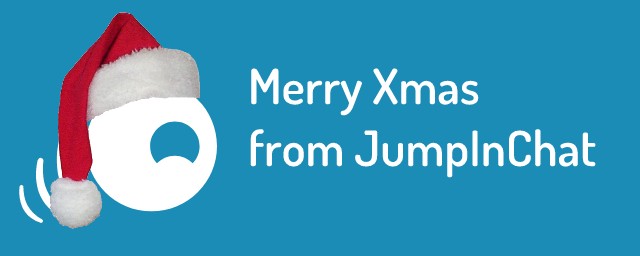 2018 was a big year for JumpInChat. With more traffic then ever before, there was more feedback than ever before too. This ultimately led to a swath of improvements and new additions on all fronts. Site capacity was improved, reliability increased, experience streamlined.
I'd like to take a moment to reflect on what has changed, and what is yet to come in the new year. Thanks to everyone who helped us get to where we are today, those who have donated to the site and those who continue to use it.
Merry Christmas!
Scale
One of the primary focuses this year was to allow for an increased amount of traffic. This resulted in a need to expand the server capabilities, add redundancy and improve reliability. This was made immediately apparent on New Years Day where a sudden surge of people brought the site to it's knees and almost brought it down altogether.
As it currently stands, this is no longer as big an issue. With multiple chat and media servers the site functions well, even under load. Though all this being said, there is still much to do. The current solution is not fit for the long term, as it is not extensible as it should be. This coming year will, I hope, give me time to improve this.
Supporting the site
Allowing for users to financially support the site is a task I had set quite some time ago. Since I pay out of pocket to fund JumpInChat, I had hoped to offset this by offering users additional features for a small monthly payment.
Early in the year I added the first step towards accepting donations. Via a third-party site, several generous users offered their dollars to keep the site going. While this was somewhat suitable at the time, it did not allow for me to reciprocate these donations.
Later on I added an in-site donation mechanism, allowing users to subscribe to additional features, or offer a single small donation. While the current set of additional features is limited — a pair of fancy profile trophies and a higher-quality broadcast — more features are planned. These include:
Custom user icons
Custom room emoji
Reserved nick names
Room and chat improvements
This year I made far too many changes to list here, but to name a few:
Emojis
Dark theme
Trophies
Room restrictions
Video player improvements
Push notifications
Expect more features, fixes and updates as the new year goes by. My list is long and extensive, though a few major future additions will include:
Additional moderation commands:
Kick users out of a room, silence user's mics and block users from broadcasting. These are some of the additional mod options to be added in the near future.
More video sources:
Along with YouTube, play Vimeo videos, Twitch replays and more. All will be added to the playlist and play in the inline video player.
Ban users after they leave the room.
Age restricted rooms
At JumpInChat, I try not to limit what you can do as much as possible. Some activities, however, require a bit more in the way of verification. To accommodate this, I added the concept of age verification, which allows you to verify your age. This let s you broadcast in age restricted rooms, which are rooms with relaxed restrictions for certain "adult" activities.
Currently there's not much in the way of allowing these rooms to be publicly advertised, though I intend to add an 18 plus directory in the future.
Reporting
In order to effectively moderate the site, I required the ability for users to report activity that may be considered inappropriate or abusive. This is where reporting comes in. Reporting sends a site moderator (me) a message directly along with chat logs and broadcast screenshots, which lets me immediately act and handle the offending user.
---
New features in 2019
Along with the improvements to existing features mentioned prior, there's a few more features I'm planning to add in the new year.
Recent and favourite rooms on the home page
Since not all rooms are made public, finding recently entered rooms is currently purely down to bookmarking the link yourself. To remedy this, I'm looking into adding a list of recently entered rooms, public or otherwise, on the home page.
Additionally, you will be able to add a room to a favourite list. These will also be shown on the home page, with an extended list visible on a separate page. This way you'll never lose track of your chat rooms!
In-site communication and messaging
A method to send messages to other site users directly, whether they are offline of not. This feature is encompassed within a greater plan to improve the creation of communities within the site, which may also include groups and message boards.
Groups will allow room users to create longer-lasting discussions about room management, events or just general shit-posting. They will either be bound to rooms themselves, or created as site-wide communities to allow for greater discussion about the site itself.
---
Once again, thanks to all of you who have supported the site, left feedback and continued to use it. You've all helped make it what it is today.
Merry Christmas and I hope to see you all in 2019
Vivaldi