While there aren't a huge amount of feature additions in this update, there is instead a number of fixes and improvements to improve reliability, and to tighten things up a little. Not all the improvements are going to be noticeable, as they will be to administration and behind-the-curtain tools. Nevertheless, it all contributes to the smooth functioning of the site.
Moderators can silence users
As part of the planned additions to room moderation, mods can now silence users for a brief period. Silencing prevents users from sending messages, mainly intended to calm a certain user's excessive messaging.
Improved trophy application
Occasion-based trophies are only applicable on the date of the occasion in question, naturally. However, since users could be from all over the world, there should be some leeway as to when they can be given.
Relying on a time given by the user themselves is somewhat unreliable. Instead, trophies will be applied as long as the date is correct somewhere in the world.
Media server re-connections
Since network connections can be unstable, particularly when using a mobile network, I've implemented additional re-connection mechanisms that are available in order to hopefully keep disconnects to a minimum. Should a network drop-out occur, or you change your network (e.g. shifting from mobile to wifi), the client will attempt a re-connect, or renegotiation.
This is currently experimental, and will occur when an error would otherwise appear. It will continue to be worked on and improved.
Room restriction indicators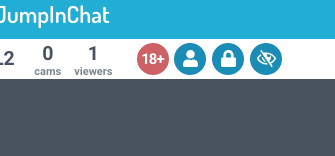 There are numerous restrictions that can be applied to rooms. These can include preventing unregistered users from joining, adding a room password or hiding the room from the public directory. Since these settings may not be immediately obvious, I've added some indicators to the room header bar. These complement the 18+ indicator that existed already for age-restricted rooms.
Other fixes and improvements
Videos and playlists should error less often after an improvement to the database structure
An issue with @mentioning a user notifying every user was fixed
If a user's subscription ends or is cancelled, their gold status is removed.
Fixed broadcasts starting paused on future versions of chrome.
Added cache status check to status page after a cache service failure caused a site-wide outage.
---
If you want to get more frequent updates and site news, be sure to follow the Twitter or Facebook feeds.