This week has been mostly focused on improving audio throughout the site and adds some functionality that makes using audio much more practical. Notably, the ability to select which audio source to use when broadcasting and the highlighting of active audio streams.
Audio source selection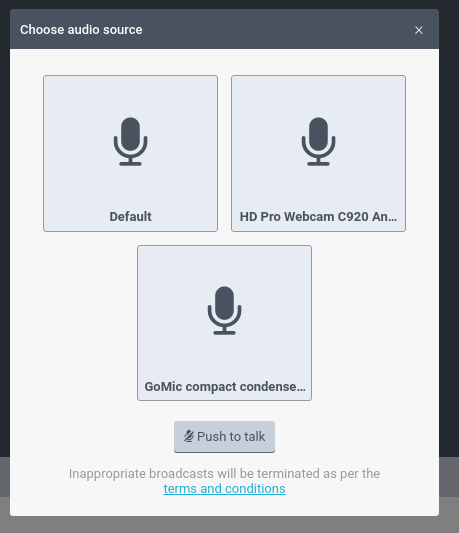 Previously, what ever was designated the "default" audio source was used. Now, one can select their preferred microphone/audio input. The ability to do this was added to the media selection pop-up that opens when you broadcast, along with the video source selection. It has become part of the process to broadcast, which is now:
click start broadcast -> select video -> select audio -> broadcasting starts
Open microphone option
An option added to the audio selection screen above is the ability to select whether your microphone is "Push to Talk" or "Always On". Formerly microphones were set by default as push-to-talk where you must hold a button to broadcast audio. However, this option allows a constant audio broadcast. Of course, in larger rooms this may become more of an annoyance than anything else if everyone has an always on, or open, microphone so options will be added in the future to allow a room owner to restrict this.
Audio activity highlighting
When adding constant audio broadcasting, the need to highlight users broadcasting audio became clear. This addition rather simply adds a blue aura around a cam that is transmitting audio above a certain volume.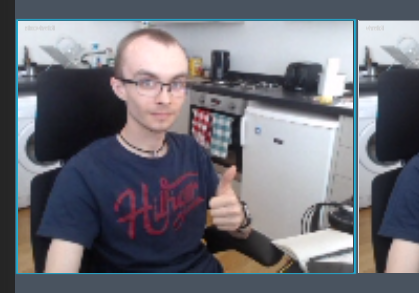 What's next
Stability improvements to make audio better still, as well as adding options to restrict open mics in rooms. Being able to control remove volume beyond just being able to mute/unmute them is something I'm going to start looking at too, if there's time.
---
As always, go to https://jumpin.chat and get chatting, invite people etc. etc.
The only way I can make this thing better is having you break it!