Another incremental update, featuring a new reporting feature, added security for the media server, as well as performance improvements.
Reporting
In case you come across some nefarious behaviour going on that you either have no ability to stop, or just feel you need to draw attention to, there is now a feature to allow reporting it.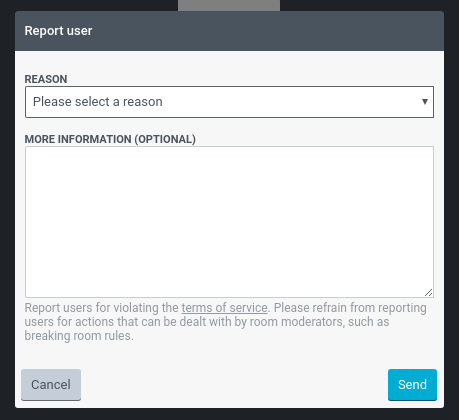 Reporting a user will immediately send an administrator a message with the details you have given so that they can investigate and, if necessary, deal with the problem user. Reports are also stored so that repeat offenders (or report spammers) can be identified.
Do note, however, that reporting is intended for terms of service violations. It's not intended for reporting a user for being annoying or breaking any room rules you have have. Such cases should be dealt with by the room moderators.
Media server authentication
Connections to the media server are now authenticated by a token retrieved when you connect to a room. Basically, this means that you need to be connected to a room in order to view broadcasts, or broadcast yourself. This should prevent anyone from snooping on a room.
Improvements to connection times
A continuing piece of work is to improve the time it takes to view broadcasts when you enter a room, or for new broadcasts to appear. Work has been done to add additional relay servers, as well as optimising their usage.
Reduction of site download size
By updating some source code assets, the download size of scripts has been reduced, which should improve load times. It should also optimise performance when using the site, at least as far as script execution goes. Broadcasts will continue to consume as many resources as they did, however.
---
As always, go to https://jumpin.chat and make a chat room, invite people and have fun and stuff.
The only way I can make this thing better is having you break it! Or even better getting even more people using it who then also break it!