A bunch of stuff has happened since the previous update, which I will attempt to summarise in this post. Some major feature additions, some fixes and updates were added as-per-usual.
These include a wide layout option, improved user profiles and broadcast improvements.
Restoring chat logs
Your chat log will now be saved locally and restored upon loading the room. Since chat is not saved server-side, this avoids losing everything if you refresh.
Pop-up profiles
Gone are the drop-down menus on the user list. Instead, the profile pop-up window now appears instead, along with all the available user actions. The idea behind this was to give easier access to a user's profile, while allowing user actions to be categorised appropriately.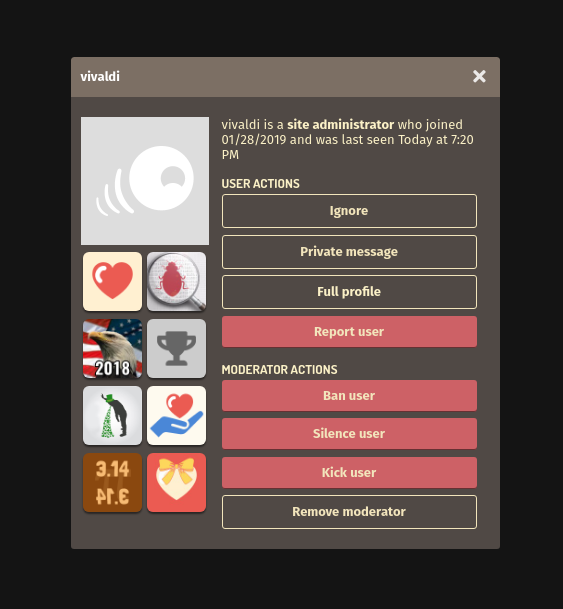 Improved broadcast error feedback
One of the more frustrating and persistent issues I get feedback on is broadcast errors with little to no explanation. I've attempted to remedy this with some more descriptive message feedback. This, I hope, will give some idea of what is going on when errors appear.
However, since some issues may still be somewhat mysterious, I've also added a troubleshooting section to the cam help page. The aim of this is to demystify things a bit, as well as possibly solve some other broadcasting issues you may face.
No Push-to-Talk by default if room is not busy
Push-to-talk was always the default audio broadcast method, unless manually changed. This is now dependant on the number of active broadcasters in a room.
If there are less than 6 broadcasters, and you have not already changed the PTT settings or they're not forced by the room, you will broadcast audio by default. Otherwise, PTT will be enabled. This can still be changed when broadcasting, however.
This aims to reduce some frustrations in smaller, less active rooms, where PTT isn't always the ideal option.
Seek YouTube videos
A popular feature request was the ability to seek through currently playing YouTube videos. It's as simple as it sounds. Just hover over the progress bar and select where to jump to.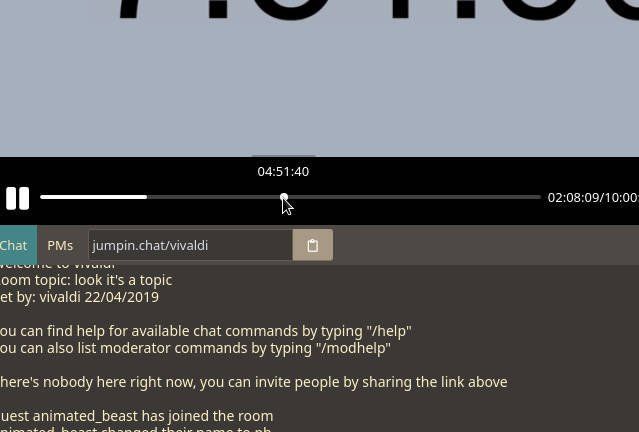 Improve dark theme
Dark theme continues to be improved. Now all drop-downs and pop-ups will be appropriately themed and less eye-glaringly bright.
Wide layout
Another requested feature, and something ultimately required, was a way to increase the amount of screen-space given to broadcasts. This was especially apparent on widescreen laptops, where there is very little horizontal space, so broadcasts would be squashed into a very narrow space.
Solving this meant adding an additional layout to move chat and cams adjacent to each other. Currently this is in a test phase, though I plan to make this the default layout mode for wider views in the future.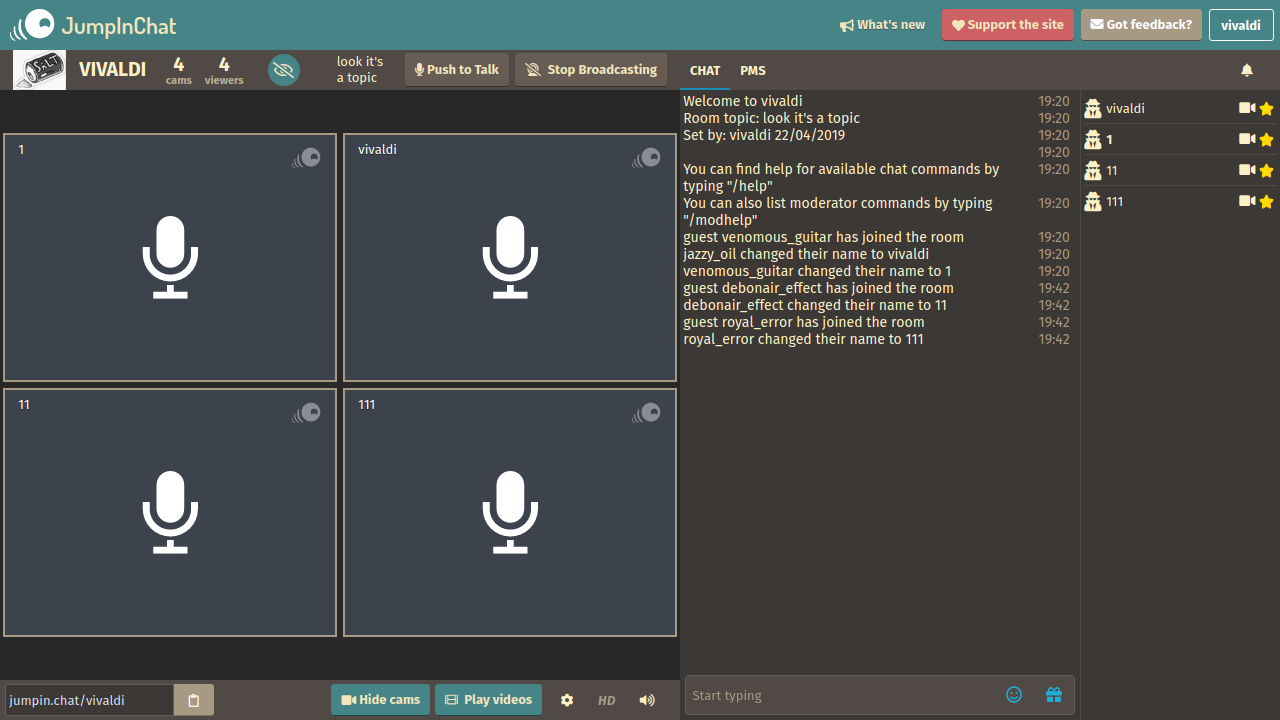 Some additional fixes and improvements
Rooms will no longer close if the owner is broadcast-banned
Trophies on the profile pop-up are now limited to eight
"conversation restored" message will no longer be spammed when selecting a private conversation
Unread private messages will now be cleared when interacting with a conversation that is already open
When gifting support, the beneficiary user's username will now be shown on the payment page
Tooltips added to interface options
Avoid sending variable quality streams unless broadcasting in HD (720p +)
Some work in progress and upcoming stuff
Inbox pagination and performance improvements
Offline messaging remains quite slow, and pagination for conversations remains quite broken. Work is in progress to improve this and should fix both of these issues.
Additionally, I'll work on fixing message streams so the latest messages load first, and you load previous messages instead.
Switch cameras on mobile
Browsers are beginning to treat a phone's multiple cameras (front and back) as a single device, meaning only one will appear on the broadcast pop-up. I'm planning to add a means to switch between them either when starting to broadcast or during.