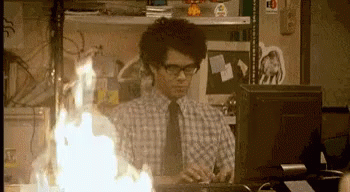 A lot has happened since the last update, and moreover in the last week. JumpInChat has figuratively, and literally, exploded as a flurry of new users arrived. That being said, improvements were made and continue to be. As ever, I've documented some of the notable changes, as well as an idea of what's to come, eventually.
Offline message improvements
I've made numerous improvements to the offline messaging system, mainly around improving performance. Notably, the load times for opening your inbox is substantially shorter now, and pagination is no longer woefully broken.
I'm continuing to make improvements to individual conversation threads too. Once again, they should load far quicker than before. Layout is improved as well, with composition now done at the bottom of the page (where the latest message would be).
Site moderators
One of the more substantial updates of late is the addition of site moderators to assist me in acting on reports. As this was until recently a one man team (me), I could only ever respond to issues in my waking hours. This gap should now be covered, for the most part.
Naturally, given recent events and the increased activity this it is more important than ever that there be a few extra helping hands keeping an eye on things. So a big thank you to them!
Room permanent bans
A long-requested feature, though one which I have hesitated to add, is the ability to permanently ban a user from your room. This hesitation was drawn from a fear that it would ultimately be abused, and in the hands of a moderator with ill intent, ban legitimate users forever.
However, naturally the effects of continued trolling and general dickery ultimately outweigh this risk, and in the end it is up to the room administrator themselves to vet their mods.
Site scale
As previous regular users of the site will no-doubt know, activity has surged substantially over the last week or so. With this new activity comes numerous challenges.
Site capacity is the primary issue, as media servers start to fall over the dramatically increased number of streams, or the database choking on an abrupt surge of users entering rooms. Of course, this is all to be expected, and capacity must be increased to compensate. Particularly as it appears that this time, user activity is expected to remain relatively high.
Along with capacity, bandwidth is also becoming an issue. While I had a comfortable amount of headroom when it came to bandwidth allowance, the new surge in streams is causing this to blow out. While this is not an immediate concern, it means I'll have to take this into consideration and respond accordingly, if the site is to be sustainable.
Additionally, this increased volume of traffic unearthed some unexpected integration issues. Notably, and to many a cause of much frustration, is the YouTube API quota will no run out after only 14 hours from it's daily reset. YouTube has dramatically reduced the individual quota allocation amounts in the last few years, down from a comfortable 50 million "units" to a current starting point of 10,000. I am attempting to increase this, via their application forms, though being YouTube they are less than hasty in their response.
All these issues aside, feedback from users has been wonderfully positive and pleasantly understanding. Moreover, the new supporters have made it quite clear that they want the site to succeed, and this support is greatly appreciated.
Closing
Work will continue for a while on responding to some of the more pressing concerns that came about from the last week's activity. Along with this, I will also continue work on the media server scaling, which should prevent each room's participants being stuck on a single media server.
Additionally I will be working down the list of things to do, which as ever, is quite long. So stay tuned for future updates!
---
If you want to get more frequent updates and site news, be sure to follow the Twitter or Facebook feeds.