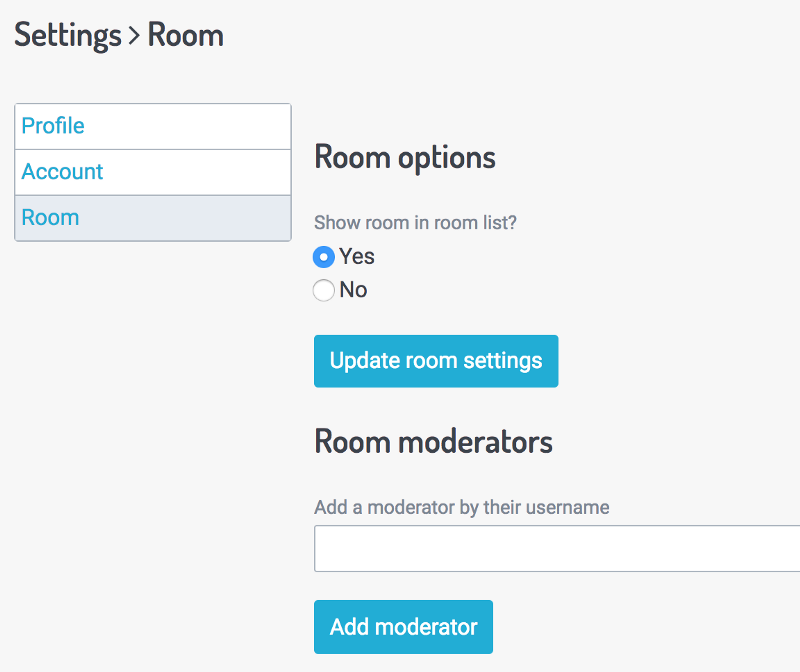 As far as major changes go, the last week introduces room settings. This will allow a user to configure their room to not appear in the room list. This doesn't allow for completely private rooms — this will be finalised when room passwords are introduced — but can reasonably obscure room discovery. 
Additionally, users can now specify room moderators by adding them directly to the moderator list via their user name. These moderators will be active so long as they remain in this list, and in the future they will have access to additional moderator permissions. This is opposed to adding moderators in the chat itself, whereby they will be counted as 'temporary' and have a reduced permission set.
Other than this, most of my activity has been around promoting the site more and to see what the level of interest is. User feedback and conceptual as well as functional testing is the reason behind this, as I'm rapidly coming to a point where the base feature set is more or less complete from a functional perspective.
So, if you're reading this far, and fancy having a bit of a pow-wow with your internet buddies, consider starting up a room and sharing the link around. Feedback from doing such will be a huge help in getting this site into a good state, as well as possibly improving the general experience and getting an idea of how I should proceed with features.
---
As always, testing still needs to be done so create a chat room and invite some folks and talk and stuff.